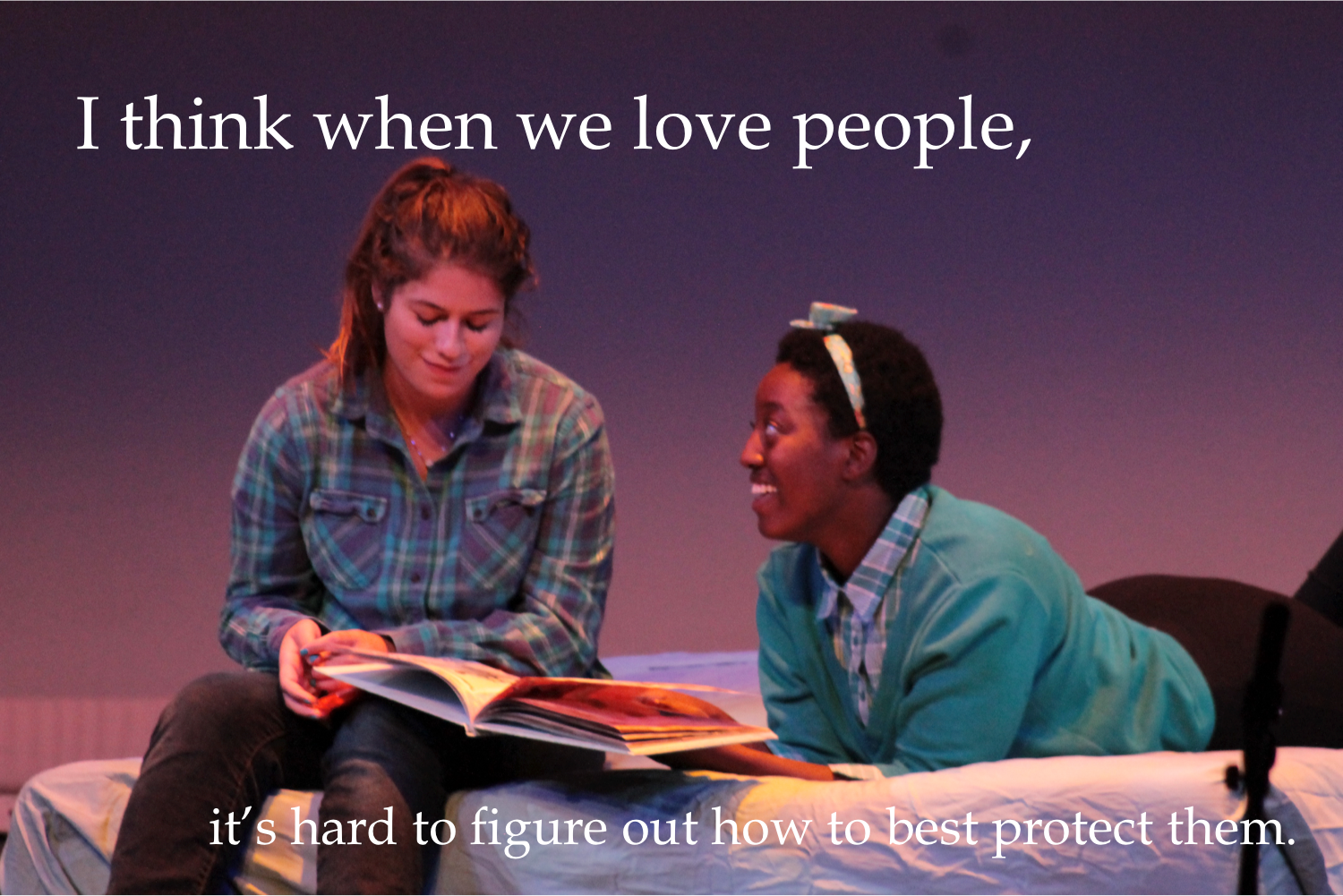 TAPESTRY EXCERPT: Scene 8 - Colleen
(CAM and SAMI are sitting in chairs center stage, looking at their laptops, studying.)
Cam, remember when we were second semester seniors?
Oh God. Stop, I can't think about that right now.
I know, I know. Someone should have warned us it wouldn't last. (pause) Okay, study break. Cam let's look at prom pictures!
(pauses)

Okay, I don't know why, but I'm down.
(CAM's laptop screen is projected on the screen behind them.)
Okay Facebook… Prom… Here we go.
(A picture is projected on the screen.)
This was all of the girls.

(pointing)

That was my date.
Except for that one dude in there.
(hesitating)

No. Umm. That's Colleen.
Colleen?

(realizing her mistake)

Oh.
Colleen and Sara went together.
(just sits looking at the picture)
Any other ones? I want to see the ones with you!
Um, is it okay if we just look at yours now? I don't… I can't look at these anymore right now.
Cam, I'm sorry I thought your friend was a guy. I just didn't know.
Yeah, no, I understand. It's more than that though. But don't worry about it, let's just look at yours.
Sami, you're gonna feel like shit. Let's just move on.
Cam, I know you. It's going to bother you for awhile so you might as well tell me now. Whatever it is, I want to know.
(takes a deep breath)

You know how I told you that a friend of mine from high school passed away about a month ago? Killed herself?
Shit. Wow I'm such an idiot. I mean you said, "This is all of the girls…"
I never thought much about her nonconformity in high school. I admired it. I thought she was really cool for dressing how she wanted, being who she wanted. I didn't know any other out lesbians in high school, well besides her and Sara.
And then after she died I realized how hard it must have been for her. My friends and I loved her, but I can't imagine the pressure she still felt to be someone she wasn't. That combined with her depression… I didn't even know she…

(pause)

It sucks when you find out too late.

(beat)

I remember in high school people who didn't know her sometimes asked me if she was a boy. For some reason that fact that she kept her hair short and  rarely wore dresses or makeup or other things they thought girls should wear... made them uncomfortable. Fucking gender norms. Why can't we just treat people like people, even if they don't look like us?
Can I ask… was she… transgender or gender nonconforming?
Like was her biological sex female? That's cisgendered, when you identify as the gender corresponding to the sex you were born with. Or did she choose to identify that way even though that wasn't what she was assigned at birth?
(slowly) 

No, she was born female. So cisgendered? You sound like you know a lot about this.     
(at first each time she says a pronoun, she's very slow and hesitant, but she gets more comfortable steadily) 
My little brother just changed his, well, their pronouns. To "they, them, their".
They're a senior in high school. I'm… I'm still not used to it. Sometimes I just wish he could be normal again...
You wish your brother just had… cisgendered pronouns? He, him, his?
People are awful, Cam. They're awful to people who are different… It's not safe--
Don't you feel like you should support them? Help them be who they want to be?
Your friend died, Cam. She ki-
She was constantly being asked to be something she wasn't, Sami!
I need to protect my little brother! I can't let him

(pause)

them -- be bullied to death!! They get so much HATE at school, Cam! I know that they come home crying some days. On good days, boys will only look at them uncomfortably in the bathroom. On the bad days… it's worse.
I know that colleges are just beginning to show support for transgender and nonconforming students... I can't imagine how it is in high school.
There's nothing. And my parents don't know how to be supportive. They had a five day standoff over whether my brother could wear makeup to homecoming. They finally let them wear it,

(this is the most heartbreaking line, and should be said as such)

but dropped them off at a friend's house for group pictures without even getting out of the car, because they didn't want to see the other parents' faces.
(quietly)

Five people I know have died or almost died in the past year. Suicide, or car accidents, or they were apparently really sick. And in the trans community, the suicide rate… it's terrifying. Almost half of the people my brother's age who identify transgender or nonconforming try to end their lives. My brother is 40% more likely than the general population to want to die.
(struggling to find words)

That is… that is beyond unacceptable. Nobody should have to risk that much to be themselves.
And I'm starting to realize that anyone can be gone at any time and then that's it. There's nothing you can do.
(beat)

I spent a week listening to Colleen's favorite music. I made my cover photo a picture with her. I talked to my friends from high school, and wrote about her. I talked to a therapist, too, actually, after I couldn't make myself go to class for a day, or any of my meetings. You can get free counseling around campus… There's a thing called Let's Talk…
(shrugs)

I'm glad I did it. It didn't hurt. I'm not past it yet though, clearly.
I don't think you're supposed to get past people dying.
I thought looking at prom pictures would be fine.
It's okay, Sami. (beat) Your little brother will be fine. They just need to know that people are behind them and fighting for them.
(resisting)

I need to actually support them. My parents need to actually support them. I never want my brother to feel alone.
I think when we love people, it's hard to figure out how to best protect them.
I guess.

(pause)

They paint their nails. When I go home, we can paint our nails together.

(pause again, laughs)

I'm terrible at painting my nails. Maybe they can help me.
(smiling)

You're a good sister, Sami. It's a good start.
Collaborative credits to J. Ray. In loving memory of An Ton.