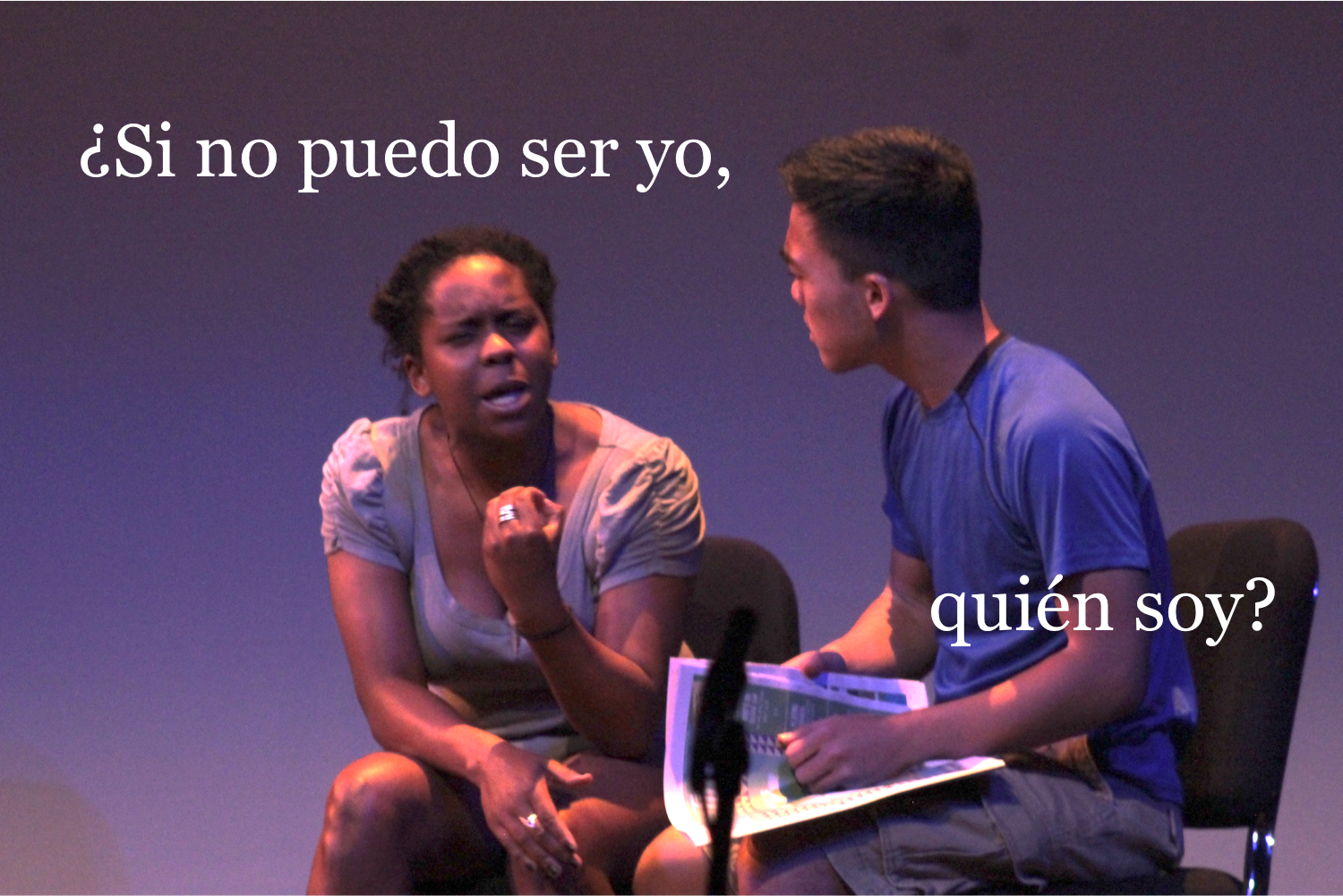 Scene 11 - Library (excerpts)
(In Uris Library, prelim time, KYLE and KAYLEE are studying on opposite side of the stage. Khamila, a Black student approaches KYLE as DANIEL, and international student approaches KAYLEE. KHAMILA enters from upstage and is not noticed by KYLE, at first.)
Hey! You're that person from the blog! The Black Lives Matter Fight. You're the guy who hates black people.
Come on. You know that's not true.
I read the blog, bud. You said we didn't welcome you, that we were in your way, that you were scared of us.
None of that is true! It's all out of context. Trust me, my best fr-
Oh yeah, and your best friend is black? You think that fixes everything?
Look, you're being incredibly rude. This is a library--
Excuse me?! I'm sorry I don't care if you call me rude. This is not an annoyance or matter of manners. What you did was really the rude thing here.
Holy shit. I'm on your side. My black friends know this, even if you don't.
Even if you really do have a black friend, how can you really think you're his friend when you don't support the students on this campus fighting for his life?
(Another student, NIARA, comes up behind KHAMILA. She is carrying books and walks with a pronounced limp.)
Her life.

(as KHAMILA turns around)

Please leave my best friend alone.
(KHAMILA walks away. Can ad-lib something before leaving.)
(reaching for her books)

Here, let me get those.
(setting them down and sitting without his help, but still politely)

Oh, no it's fine. I got it. Sorry I'm late. I missed the bus, and I wasn't sure if it was going to take me longer to walk or wait for the next one…
You walked here from North?
Yeah… I beat the bus by 10 seconds! Campus lift is unreliable sometimes, what are you gonna do?
Niara, that's a long walk…

(sitting down again, sighs looking in the direction of KHAMILA's exit)

I hate this.

(beat)

Niara, are you angry at me, for all of this?
(contemplative)

I wish it didn't happen…
You can totally be angry. You're allowed to be angry! Is there any way I can help? As a friend.
I wish you would stop talking about your black best friend. It's weird that all of this is going on though, Kyle. Like, I never really think of you as white.
(unsure whether to be flattered or offended)

You don't? What does that mean?
I mean, Kyle, you're poor. I think it's because I know you're poor.
(very uncomfortable)

Oh. Okay. Okay.
(Pause uncomfortably, then appear to begin studying in silence. Focus shifts to DANIEL and KAYLEE.)
Kaylee, I know you've been going through a bunch of shit with all this.
(quietly)

Look, I don't care about any of that. You know what hurts me?
(aggressively)

Tell me, Daniel. What about all this hurts you?
You let the Daily Blog identify you as African American. But you're not, Kaylee. You're Latina. Eres dominicana. But if I didn't know you then I would never know that.
I can't remember the last time I saw you at a Latino Living Center event. When was the last time we spoke Spanish together? You just want to be black, and forget everything else you are.
Who are you to say who I am and who I'm not? Aren't I allowed to be me, Daniel? Si no puedo ser yo, quién soy? And sometimes I need a break from trying to be two different identities at the same time. Nobody lets me be both, Daniel, nobody wants me to be Kaylee Domingo. So sometimes I'm going to be black Kaylee when I want to be black Kaylee, and sometimes voy a ser latina y dominicana Kaylee.
This whole time I've been envying you for having a place in two different worlds.
Truth is, I would would rather just live in one world. Traveling back and forth is exhausting. And people think being just black or just Latina is tough? Try dealing with oppression for both.
(attempting to smile)

Well I take back... everything I said. But I do miss speaking Spanish with you.
(Focus shifts back to NIARA and KYLE)  
(stands up)

Well I'm going to get coffee. What do you want?
Niara, you don't need to get me anything.
So… A latte? Iced coffee? Red bull? Kyle, you work constantly, I'm sure you could use something. What you do want?
(firmly)

Niara, I can get it myself.

(Niara hesitates)

I can pay for myself. You don't need to buy things for me.
Calm down, I know, but I know you're worried about not having enough Big Red Bucks for the end of the semester and I can just add some more to my account if I run out…
You really only see me as poor, don't you. Just because I have to think about money a bit more than you, just because I have to be a bit more responsible than you--
Kyle, last week you told me you weren't sure if you would be able to afford Cornell for another semester!! Excuse me for being concerned about you!!!
(ignoring this)

And you know what, Niara? I am white. And I get white privilege. That's my only identity and it's certainly a better one than "poor".
(angry now)

Okay, Kyle. So you want to be a straight white male? That's what you want? Fine. From now on I will only think of you as a straight white male, the same as every other straight white male--
Great, and remind me to start thinking of you as differently-abled every time I see you, instead of a normal black person!!!
(stops, speechless. She looks like she is holding back tears, or maybe begins crying)

Really? A normal black person?

(Kyle is silent. He's not sure whether to apologize yet, or hold his position)
You know what, Kyle? There's nothing special about being just like everyone else. You want to be just like everyone else, and you can try, but you'll figure it out eventually. At least you get to try. That's something I'll never be able to do.

(pause)

I'm going to go get my coffee. I'd like it if you could do me a favor and not be here when I get back.

(turns to leave)

And nice work fucking up the die-in. And I'm sorry I offered to get you anything.

(exits)
~With story credits to Kay Wilson.~