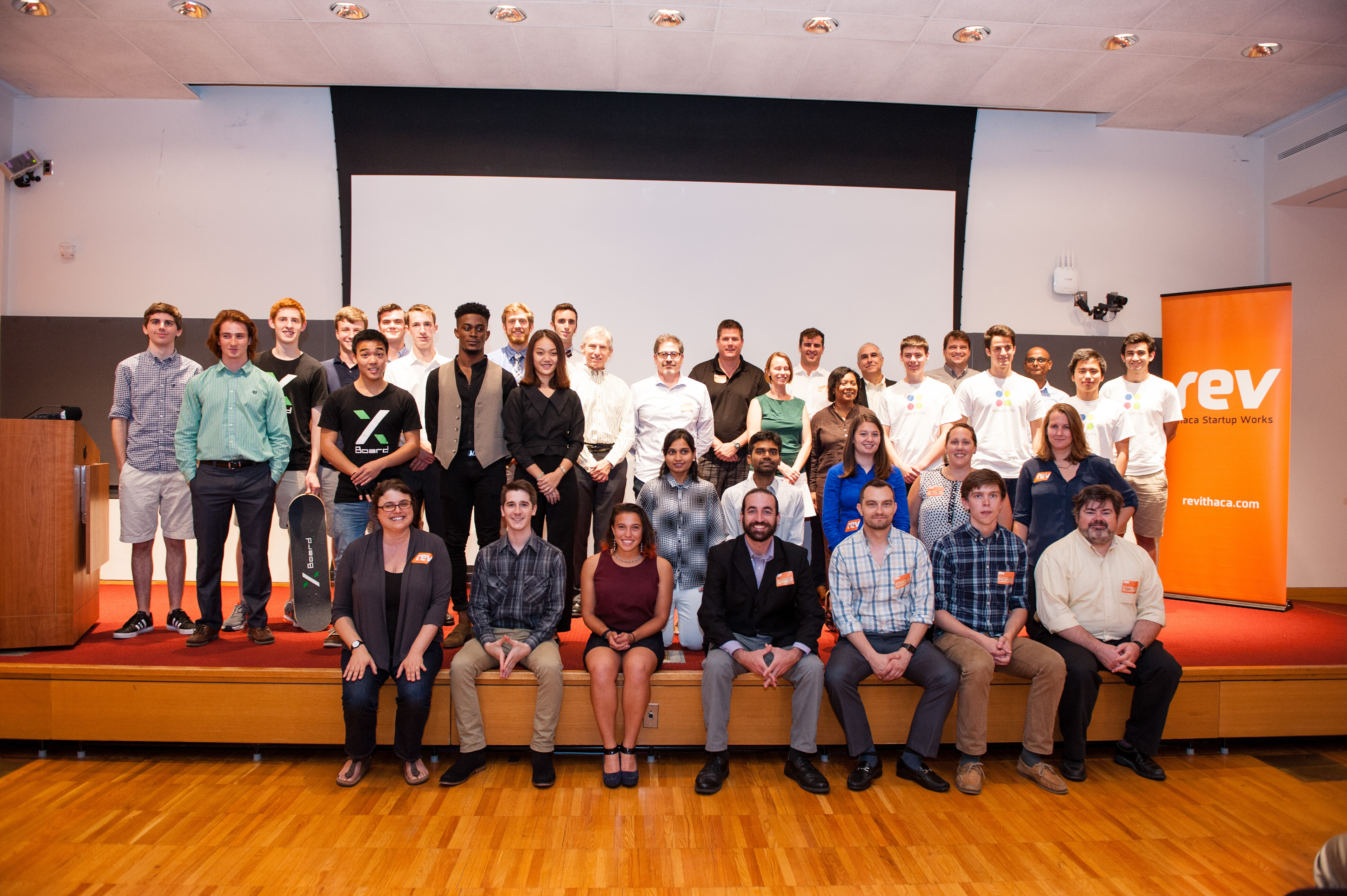 Photo credit: Bonnie Sanborn
Note: There was supposed to be a full video of my speech (and all of the Demo Day pitches) but unfortunately something went wrong with the video equipment. The video below is the best clip of my speech I could find. Credit to Bonnie Sanborn at Rev Ithaca Startup Works.
5 Things You Don't Need to Know to Be in the Rev Hardware Accelerator Program
Thank you for the introduction. As Jeremiah said, I'm Hannah Rudin, one of the tech instructors for this program. I am a rising senior in mechanical engineering here at Cornell, and I am working at Rev this summer for my Kessler Fellowship placement thanks to the generosity of Andy Kessler and the guidance of my program advisor, Tracey Brant. Please talk to me or Tracey after this if you are interested in learning more about the program. This has been a truly wonderful experience for me, and I want to encourage everyone to start thinking now about next summer's Hardware Accelerator program. I've noticed that when I mention this program, people seem a little intimidated by it. Sure, these teams had to know A LOT to create the prototypes they showed you earlier, but I'll tell you a secret: they didn't know squat eleven weeks ago. Well, that may not be 100% true, but I'd like to share with you the Top 5 Things You DON'T Need to Know to be part of the Rev Hardware Accelerator Program:
            There is a lot of focus on tech companies making millions from nothing more than a lovely interface and some brilliant backend coding. Because of this, I know many people who have felt intimidated by the idea of creating tech products when they themselves don't know how to code. But, as most of our teams discovered this summer, hardware enables the software, and this program is all about creating a hardware prototype. While some teams discovered that they do, in fact, require teammates with more programming expertise, they all now have the mockups and experience to clearly communicate their product needs.
            I believe that everyone learned a new tech skill this summer, myself included. Confession time: when Rev hired me as a tech instructor for the summer, I had never operated a CNC mill, and I had completely forgotten how to use a laser cutter and 3D printer. Hope you all didn't notice too much! Not only did teams in this program similarly figure out our Shapeoko CNC, the 5-axis Pocket NC, three different types of 3D printers, the amazing concept of solder paste, silicone molding, Arduino programming, circuit board milling and more, but they pushed through the weird glitches and "unforeseeable" errors inherent in rapid prototyping. You probably wouldn't have been able to guess, looking at the prototypes on display at their tables, but behind each of those is a pile of stuff that just didn't work.
            A lot of these team members had never used computer assisted design tools before. At the beginning of this program, industrial designer Alan Kwok gave a lesson on sketching. Yes, like with a pencil and paper. Some teams primarily stuck with that, like Joe from Remote Science, while others rapidly became experts at using Sketchup and Fusion 360, like Zach from Koala Clock. I learned this summer, along with the teams, that there are an incredible number of prototyping methods. Some require .stl, .dwg, .grbl, .gcode, or .svg type files. Some require nothing more than a piece of paper and an Exacto blade.
Laplace transforms are a mathematical tool used in system dynamics for characterizing the response in the frequency domain of dynamical systems… and I just don't think anyone used them this summer. Anyone? Alright, yeah, you don't need to know Laplace transforms to be in the hardware accelerator program.
            They may not have known it at the time, but none of the teams this summer really came in with products. They all came in with problems. Some had ideas of how to solve those problems. Some didn't really know. Now, eleven long weeks later, it looks like they're all starting to figure it out.
Please encourage your friends, family, students, and colleagues to pursue their ideas. The teams this summer had diverse backgrounds and a whole spectrum of tech experience levels, but they all had one thing in common: they recognized a problem and decided that this summer, they were going to solve it.